Along with a sense of dash, a disrespect for authority and a dog, the male pilot should have a moustache. When we asked our readers for their suggestions for the top 10 pilot moustaches, we were stunned by the huge response. With this in mind, we have grown the list from 10 to a great hairy 34!
(note to US readers: we are talking about mustaches)
34. Dick Dastardly "Curses, foiled again!"
Dastardly's appearance is based on Sir Percival Ware-Armitage from 'The magnificent men in their flying machines' (played by Terry-Thomas). Dick is penalised for not being real.
33. Chesley Sullenberger 'Hudson-ducker proxy'

Hero and a gentleman he may be, but the 'Angry Neighbour' is not a stylish moustache.
32. Chief Instructor CDR Mike 'Viper' Metcalf
Metcalf mastered the 'your mum's new boyfriend' look but as he did not exist outside the homoerotic naval recruitment film 'Top Gun' he has not received a high ranking.
31. Col. Chris Hadfield 'Cosmic busker'
Orbiting Canadian busker Hadfield sports the 'Scientist Uncle' as also sported by your scientist uncle. Though being a spaceman is very impressive, this upperlip hair is far too sensible for this contest.
30. General Guishi Nagoaka 'Hirsutie cutie pie'

The second largest moustache in the world at the time, but alas, cheeky Nagoaka was not a pilot — though he did pioneer some aspects of balloon warfare. According to his wife, the moustache was unbearably tickly on her thighs.
29. C.J. 'Heater' Heatley 'Strawberry Top Gun'

F-14 pilot, Top Gun instructor and photographer Heatley took pictures that inspired the Top Gun film. All very well, but his thespian moustache seems too conventional to earn many points despite its excellent condition and strawberry blond hue.
28. Adolf Galland 'Gallanded Gentry'

104 aerial victories for the Luftwaffe and a tidy moustache.
27. Wing Commander Robert Stanford Tuck 'Tuck shop'
A classic fighter pilot look from Tuck here. After an extremely eventful World War II he made friends with Adolf Galland in later life and had a mushroom farm.
26. Hans Von Dortenmann 'Focke!'

This twat shot down 38 aircraft that were fighting the Nazis. He killed a relation (Tempest pilot F/Sgt Coles of 274 Sqn ) of the author — which is probably going to lose him some points in this moustache contest.
25. Marshal of the Royal Air Force Sir John Cotesworth Slessor 'Headmaster wants to see you'

If F-35 pilot Scott Williams hadn't suggested Slessor's inclusion on this list, it's doubtful he would have made it (based on the image above anyway). Looking like the man who has just interrupted you sleeping with his wife, his stubbly shadow is below par.
24. René Fonck 'Fonck you I won't do what you tell me'

In World War I, two American pilots bet Fonck a bottle of champagne that one of them would shoot down an enemy plane before he did. Fonck lost the bet, but rather than pay it off, he convinced the Americans to change the terms of the bet so that whoever shot down the most Germans that day would win. Fonck went on to shoot down six enemy aircraft before the sun set. He become the top Allied Ace, with around 100 kills despite his unassuming moustache.

23. Glenn Curtiss 'Curtiss may field first amphibious aircraft'

Peaky Blinders-style bully boy Glenn Curtiss did everything, if you don't know him already, have a look on Wiki. Even with his busy life he kept time to maintain a really tough tash.
22. Bob Hoover 'Not the KFC guy'

He could pour a cup of tea while performing a 1G barrel roll, and was one of the best pilots ever. Fairplay and a good 'tash.
21. Charlie Brown 'Peanuts'

Not to be confused with Charlie Brown from the Stigler incident , this Brown is a warbird pilot and owner of a pitch perfect handlebar.
20. Paul 'Pablo' Mason 'The Mighty Fins'

Outspoken Gulf War veteran Pablo Mason was a Tornado pilot. As well as sporting a large moustache à la hongroise – a Saxon warlord kind of a thing – he was fired from being an airline pilot for being too cool*. High scorer here.
*He let a passenger on a charter flight onto the flightdeck to allay the passenger's fear of flying, something which was banned following 9 11. He had previously stripped to his underwear in a protest at overly fussy airport security.
19. Roscoe Turner 'Roscoe Turner Overdrive'

Somewhere between Dali and Vic Reeves, the surreal majesty of Turner's Small Handlebar/Dali 'tash look deserves celebration. Air-racing, lion-owning, DFC-winning Turner was a pretty amazing guy all round.
18. Howard Hughes 'Hunky Hughes'

As well as collecting his own pee in jars and wearing Kleenex boxes for slippers, Hughes had an excellent understated moustache. Good to think of Hughes when considering if people like Bruce Wayne really exist.
17. Mike Napier 'Hairy Tonka'

Mike Napier's solid 'Nigel Mansell' is rocksteady at low-altitude, perfect for flying a Tornado GR.1
16. Jimmy 'Wacko' Edwards
Dakota pilot and entertainment star, Edwards' poetic lip border is a joy.
15. Captain O P Jones 'Jimmy Hillfiger'

Charismatic spiritual father to all British airline pilots, Jones was feared and revered. When the HP.42 he was flying was badly hit by lightning, jamming the cockpit door shut and damaging the rear of the aircraft, he reassured passengers by sliding a note through a crack in the door. Despite this he has brought a piratical beard to a moustache contest and cannot be scored highly.
The Hush-Kit Book of Warplanes will feature the finest cuts from Hush-Kit along with exclusive new articles, explosive photography and gorgeous bespoke illustrations. Order The Hush-Kit Book of Warplanes here
14. Adolphe Pegoud
Insouciant as fuck, Pegoud catches the carefree elegance of French heroes with his rakish handlebar. He was the first fighter ace in the world, the first person to parachute from an aeroplane and the second (not the first as believed at the time) pilot to perform a loop. He was shot down and killed by a former pupil in 1915 at the tender age of 26.
13. Group Captain Mandrake
Failing to avert an apocalypse has never been done as stylishly as Peter Sellers' Mandrake did it in the 1964 Dr Strangelove. I'm not sure this moustache was real, I know that Mandrake himself was not – so low points here.
(For reasons that remain unclear, 'Mandrake' is also the nickname of the editor of a popular aircraft magazine.)
12. Wiley Post 'Post Modern'
Pionnering the pressure suit, discovering the jet stream and decorated with a rakish little moustache, Post had it going on.
11. Muhammad Mahmood Alam

Rumoured to have destroyed six IAF Hunters in one sortie — and with nine kills to his name, Alam was a hero to the Pakistan Air Force. The status of this F-86 pilot should not delude us into over-estimating his, at best, functional moustache.
12. Count Francesco Baracca 'Ferrario' 
Do not mess with Baracca. The Red Baron was not the only aristoric ace of World War I, Count Baracca had 34 confirmed kills and a no nonsense cold-blooded moustache.  He painted his family crest on the side of his aircraft, a black prancing horse, which inspired the Ferrari's iconic logo. He flew the Nieuport 17 and then, from March 1917, the SPAD VII.
11. Hugh Trenchard, 1st Viscount Trenchard 'Trenchard's Furry Friend'

You can almost imagine Trenchard's 1000-yard stare looking back at you as you catch him scrumping apples from your garden. History will judge a man who was an early advocate of strategic bombing and one of the architects of the British policy on imperial policing through air control as a man with a workmanlike facial caterpillar.
10. Air Chief Marshal Sir Hugh C T Dowding 'Dowdy-Dudey'

Dowdy Dowding was a spiritualist, a single parent, theosophist, anti-vivisectionist and a vegetarian — but his headmaster tash was not sexy. He was, however, very important in the Battle of Britain.
9. Gervais Raoul Lufbery — 'Plucky Gervais'

Another insouciant individual who looks like he could only smoked to give himself a break from kissing and reading philosophy, Lufbery was a French-born half-American who volunteered to fight before the US entered the war. Unlike many of the rather posh rich Americans who fought as early volunteers, he was from a humble background having worked in a chocolate factory before the war. I almost forgot to mention his moustache-  which is a micro-'Lampshade', and has a certain something.
8. Squadron Leader A H Rook
Leading a fighter squadron in Russia in 1941 demands a particularly brave moustache, so the RAF sent Rook. Good work.

7. Squadron Commander the Lord Flashheart
Lothario, brawler and the mad bastard hero of the RFC, Lord Flashheart had an excellent handlebar moustache but loses points for being imaginary.
6. Wing Commander Roger Morewood

Morewood — one of the last of the Few (he died in 2014) and rocker of a perfect RAF handlebar. The platonic ideal of the dashing fighter pilot, Morewood is a heavy hitter in pilot moustache world as well as having a name any male porn actor would die for.
5. Air Cmde Suren Tyagi
The Indian Air Force is an organisation that prioritises excellent moustaches over everything else (certainly over sensible procurement programmes). Thanks to this policy, Tyagi has created this luscious 'Imperial' style moustache, the perfect accoutrements for sitting in a MiG-21 or blasting a quail with a blunderbuss.
4. Flying Officer 'Osti' Ostaszewski-Ostoja

In the September 1939 campaign, Osti fought in the Polish "Dęblin Group", a desperate last-ditch defence force organised by instructors of the Fighter Pilot School in Ułęż. He later fought as a Spitfire pilot in the RAF. Excellent jawline and full moustache.

3. Flight Lieutenant (Flt Lt) Karan Kohli 'Dali Fulcrum'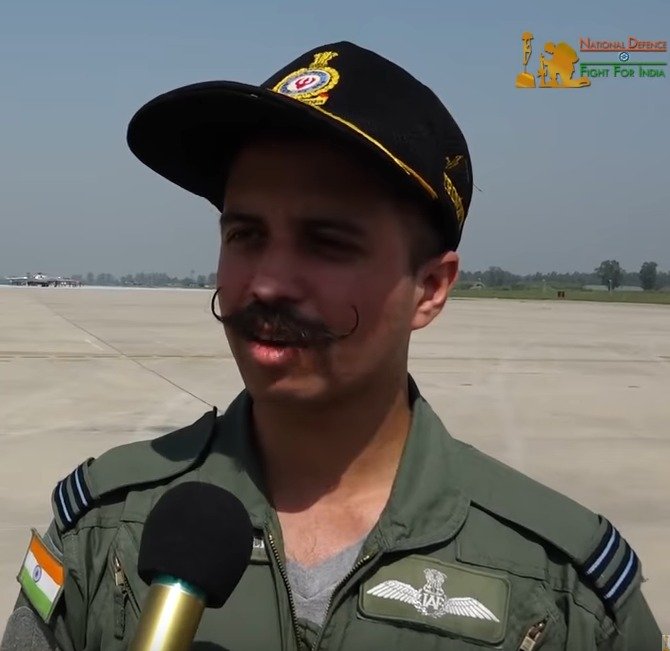 Moustaches are an integral part of tradition and folklore in several parts of India, imbuing the grower with respect, honour and above all, a look that speaks of masculinity. Kohli can perform the famous Cobra manourvre in his MiG-29 using his moustache alone, which is pretty impressive. This is also an excellent moustache – so points all round.
2. Robin Olds 'Olds pilot and bolds pilot'

You don't get more USAF than Robin Olds, having fought with aplomb in both the P-38 and P-51 in World War II — and later the F-4 in Vietnam. His extravagantly waxed non-regulation) handlebar moustache was an act of open defiance to authority and started a fashion that swept across the Air Force.  "It became the middle finger I couldn't raise in the PR photographs. The mustache became my silent last word in the verbal battles…with higher headquarters on rules, targets, and fighting the war."
When he was finally given a direct order to shave he did, which inadvertently inspired the Air Force tradition of "Mustache March", in which airmen worldwide show solidarity by a symbolic hairy protest month against Air Force facial hair regulations. The moustache itself was a masterpiece of style, authority and dash.
Orville Wright 'Wright said Fred'

The first aeroplane pilot in the world had an excellent moustache, Orville's magnificent face candy matching his contribution to world history. Years later it would inspire bland women on Tinder to don fake moustaches to demonstrate their lack of personalities.
Looking up at an aeroplane in the sky, have you ever wondered where it originally came from- and where it will end its life? We take a fascinating look at the secret life of aeroplanes. 
Use the donate buttons to help us carry on making articles like this.
Conception
As with most vehicles, aeroplane copulation involves the male mounting the female from above (or in some cases behind). When a male aeroplane is interested in mounting a female, he waggles his wings and activate his foglights. If the female is receptive, she will either extend her drogue, sometimes called a basket, or in the case of many inland aeroplanes species, the male will extend his boom. Once coupled, the aircraft will exchange vital liquids that contain the blueprint for a new aircraft. If fertilisation is successful, the female aircraft will gestate for between ten and twenty years.
2. Birth
Birth traditionally took place at 25,000 feet, but modern birthing techniques can be as low as 500 or as high as 30,000 feet. The process takes place at great speeds to avoid Predators or other Unmanned Air Vehicles. Litters vary in size, this F-111 is giving birth to four young (young F-111s are known as piglets). Note that the young have yet to develop full-size wings.
3. Childhood
As can be seen in this photograph of a young Bell X-1, young aeroplanes seldom stray far from their protective mothers. Note that the mother has four visible engines, whereas the X-1 has none. Engines are developed during puberty. A young aircraft often has neither the software, weapons integration or spare parts to make it in the world by itself.
4. Adolescence 
After sexual maturation aeroplanes are forced to leave their family nests. Badly tempered- and highly hormonal male aeroplanes often form gangs (as seen above).
5. Sexual orientation 
Though these terms are now highly contentious, traditionally three types of aeroplane sexual orientation were understood:
A. Monocoque
A monocoque aircraft relationship involves at least one mailplane in a monogamous relationship.
B. Biplane
Biplanes are more versatile than monocoque aircraft, but some (especially in the monocoque community) have expressed doubt on their existence.
C. Triplane
Very popular in the hedonistic 1910s, especially in German aristocratic circles – today there are few self-designated 'triplanes'. Triplanes were famous for their flamboyant 'drag culture' – later replaced by the Lift-to-Drag culture.
6. Finding a job
Though originally it was considered enough that aeroplanes could fly -today they are forced to earn their keep. Some are employed by budget airlines to act as prisons for humans, the hapless detainees are not allowed to leave until they have bought a thirty Euro teddy bear and a four-Euro Coke. Other aircraft are forced to perform in circuses flying unnaturally low or to fight to the death for the entertainment of national leaders.
7. Middle Age
During middle-age, aircraft become more emotionally maintenance heavy. Aware that they are half way through their service life many, like this German Tornado ECR, start to wear gaudy costumes in an attempt to recapture the ghost of their youth.
Have you donated to the Hush-Kit blog? Buttons above and below.
8. Old Age 
The average aeroplane lives to around 7,000 flight hours. By 6,500, the aeroplane will be suffering from embarrassing coolant leaks, a general feeling of fatigue and appalling unreliability. Belts, hoses and gaskets — and anything else that rubs against something else — will need frequent attention. On the positive side, most elderly aeroplanes are thoroughly loved by both humans and other 'planes. Particularly charismatic geriatrics may even become stars, performing before millions of spectators.
9. Death 
One day an aeroplane will die. Its turbines or pistons will splutter and give up, and it will be hauled away, melted down and turned into sporks. Many aeroplanes, as Zoroastrians, request an open ground-level burial. A 'tower of silence' is built – where the bodies are left exposed so their aluminium can be picked from their bones by Vulture UAVs. 
______________________
Note: This blog can only carry on with donations, please hit the donation button and share what you can. Thank you.
You may also enjoy A B-52 pilot's guide to modern fighters, Flying and fighting in the Lightning: a pilot's guide,Interview with a Super Hornet pilot, Trump's Air Force Plan, 11 Worst Soviet Aircraft, 10 worst US aircraft, and10 worst British aircraft
You may also enjoy Ten incredible cancelled Soviet fighter aircraft, Ten worst Soviet aircraft, Ten incredible cancelled military aircraft, Fighter aircraft news round-up,  11 Cancelled French aircraft or the 10 worst British military aircraft, Su-35 versusTyphoon, 10 Best fighters of World War II , Su-35 versus Typhoon, top WVR and BVR fighters of today, an interview with a Super Hornet pilot and a Pacifist's Guide to Warplanes. Flying and fighting in the Tornado. Was the Spitfire overrated? Want something more bizarre? Try Sigmund Freud's Guide to Spyplanes. The Top Ten fictional aircraft is a fascinating read, as is The Strange Story and The Planet Satellite. The Fashion Versus Aircraft Camo is also a real cracker. Those interested in the Cold Way should read A pilot's guide to flying and fighting in the Lightning. Those feeling less belligerent may enjoy A pilot's farewell to the Airbus A340. Looking for something more humorous? Have a look at this F-35 satire and 'Werner Herzog's Guide to pusher bi-planes or the Ten most boring aircraft. In the mood for something more offensive? Try the NSFW 10 best looking American airplanes, or the same but for Canadians. 10 great aircraft stymied by the US. 
Those wishing to get into arguments with sexually frustrated people they've never met, can enjoy the many pleasures of online aviation forums. Here you can enjoy the thrill of illiterate nationalism, faked insider knowledge and the tiresome raw data-sharing of people who, to put it kindly, could be described as 'left-brain dominant'.
It's good to share your interests. Though when you talk to people merely because of a shared interest you are opening the floodgates to some pretty interesting specimens.*
Here are some of the archetypes to watch out for in the sweaty corners of the internet infected with aviation forums. Award yourself 5 points for each one you encounter:
The gent
Articulate, big-hearted and avuncular, this is the best kind of animal you can encounter on an aviation forum; he simply wants to chat and to share his interests. This lonely voice of maturity can be found trying to quell the petty disputes of adolescences and lonely drunk men in over-heated hotel rooms.
The real pilot/navigator/groundcrew
The real pilot is often informal, relaxed and uninterested in pissing contests (in this context anyway!). He'll frequently refer to the group he was in (No. 54 Sqn in the 1970s, Qantas in the 1980s etc). The use of jargon feels right and the emphasis is often on aerodynamics and the unreliability of systems rather the 'catalogue talk' of those educated by the PR departments of Lockheed Martin and Sukhoi etc.
Data-collator 
Rather like the BFG collecting dreams in jars, the DC hoards data. Aircraft registrations, serial numbers, crash dates. To say it's pointless would be unfair (which hobby isn't?), but it does seem rather abstract. Variations on this theme, include the 'Horribly bitter data-collator' the 'Gentle librarian data-collator' and the 'Christ-he's-so-boring-I-want-to-pull-my-eyes-out-one-by-one data-collator'. 
The liar
Mad nonsense from guys who allegedly flew 'Foxbat's from Irish aircraft carriers in the 1950s. Well, at least they are showing some creativity.
The bully expert
Gosh this guy knows his onions, but he also could do with growing some fucking humility. Watch him beat down feckless individuals who have the cheek not to have been born with ten copies of Jane's nailed to their heads. Having said that, this guy will give you the odd scoop and some interesting and often well-expressed views.
The ranting nationalist
This is the worst. To this character, the particular aeroplane type he loves symbolises his nation and their superiority as well as his own sense of self-worth. If the aircraft type he loves is criticised he will descend into either an ill-informed one-sided defence of his aircraft or else racism disguised as opinions about planes (sometimes this is just bare-faced racism).
The researcher
'Can anyone help me… I'm writing a book on the sex-lives of Fairey Gannet pilots in the mid-1960s?'.
Get a lock-on Hush-Kit on Twitter..go on!