The Top 34 pilot moustaches
Along with a sense of dash, a disrespect for authority and a dog, the male pilot should have a moustache. When we asked our readers for their suggestions for the top 10 pilot moustaches, we were stunned by the huge response. With this in mind, we have grown the list from 10 to a great hairy 34!
(note to US readers: we are talking about mustaches)
34. Dick Dastardly "Curses, foiled again!"
Dastardly's appearance is based on Sir Percival Ware-Armitage from 'The magnificent men in their flying machines' (played by Terry-Thomas). Dick is penalised for not being real.
33. Chesley Sullenberger 'Hudson-ducker proxy'

Hero and a gentleman he may be, but the 'Angry Neighbour' is not a stylish moustache.
32. Chief Instructor CDR Mike 'Viper' Metcalf
Metcalf mastered the 'your mum's new boyfriend' look but as he did not exist outside the homoerotic naval recruitment film 'Top Gun' he has not received a high ranking.
31. Col. Chris Hadfield 'Cosmic busker'
Orbiting Canadian busker Hadfield sports the 'Scientist Uncle' as also sported by your scientist uncle. Though being a spaceman is very impressive, this upperlip hair is far too sensible for this contest.
30. General Guishi Nagoaka 'Hirsutie cutie pie'

The second largest moustache in the world at the time, but alas, cheeky Nagoaka was not a pilot — though he did pioneer some aspects of balloon warfare. According to his wife, the moustache was unbearably tickly on her thighs.
29. C.J. 'Heater' Heatley 'Strawberry Top Gun'

F-14 pilot, Top Gun instructor and photographer Heatley took pictures that inspired the Top Gun film. All very well, but his thespian moustache seems too conventional to earn many points despite its excellent condition and strawberry blond hue.
28. Adolf Galland 'Gallanded Gentry'

104 aerial victories for the Luftwaffe and a tidy moustache.
27. Wing Commander Robert Stanford Tuck 'Tuck shop'
A classic fighter pilot look from Tuck here. After an extremely eventful World War II he made friends with Adolf Galland in later life and had a mushroom farm.
26. Hans Von Dortenmann 'Focke!'

This twat shot down 38 aircraft that were fighting the Nazis. He killed a relation (Tempest pilot F/Sgt Coles of 274 Sqn ) of the author — which is probably going to lose him some points in this moustache contest.
25. Marshal of the Royal Air Force Sir John Cotesworth Slessor 'Headmaster wants to see you'

If F-35 pilot Scott Williams hadn't suggested Slessor's inclusion on this list, it's doubtful he would have made it (based on the image above anyway). Looking like the man who has just interrupted you sleeping with his wife, his stubbly shadow is below par.
24. René Fonck 'Fonck you I won't do what you tell me'

In World War I, two American pilots bet Fonck a bottle of champagne that one of them would shoot down an enemy plane before he did. Fonck lost the bet, but rather than pay it off, he convinced the Americans to change the terms of the bet so that whoever shot down the most Germans that day would win. Fonck went on to shoot down six enemy aircraft before the sun set. He become the top Allied Ace, with around 100 kills despite his unassuming moustache.

23. Glenn Curtiss 'Curtiss may field first amphibious aircraft'

Peaky Blinders-style bully boy Glenn Curtiss did everything, if you don't know him already, have a look on Wiki. Even with his busy life he kept time to maintain a really tough tash.
22. Bob Hoover 'Not the KFC guy'

He could pour a cup of tea while performing a 1G barrel roll, and was one of the best pilots ever. Fairplay and a good 'tash.
21. Charlie Brown 'Peanuts'

Not to be confused with Charlie Brown from the Stigler incident , this Brown is a warbird pilot and owner of a pitch perfect handlebar.
20. Paul 'Pablo' Mason 'The Mighty Fins'

Outspoken Gulf War veteran Pablo Mason was a Tornado pilot. As well as sporting a large moustache à la hongroise – a Saxon warlord kind of a thing – he was fired from being an airline pilot for being too cool*. High scorer here.
*He let a passenger on a charter flight onto the flightdeck to allay the passenger's fear of flying, something which was banned following 9 11. He had previously stripped to his underwear in a protest at overly fussy airport security.
19. Roscoe Turner 'Roscoe Turner Overdrive'

Somewhere between Dali and Vic Reeves, the surreal majesty of Turner's Small Handlebar/Dali 'tash look deserves celebration. Air-racing, lion-owning, DFC-winning Turner was a pretty amazing guy all round.
18. Howard Hughes 'Hunky Hughes'

As well as collecting his own pee in jars and wearing Kleenex boxes for slippers, Hughes had an excellent understated moustache. Good to think of Hughes when considering if people like Bruce Wayne really exist.
17. Mike Napier 'Hairy Tonka'

Mike Napier's solid 'Nigel Mansell' is rocksteady at low-altitude, perfect for flying a Tornado GR.1
16. Jimmy 'Wacko' Edwards
Dakota pilot and entertainment star, Edwards' poetic lip border is a joy.
15. Captain O P Jones 'Jimmy Hillfiger'

Charismatic spiritual father to all British airline pilots, Jones was feared and revered. When the HP.42 he was flying was badly hit by lightning, jamming the cockpit door shut and damaging the rear of the aircraft, he reassured passengers by sliding a note through a crack in the door. Despite this he has brought a piratical beard to a moustache contest and cannot be scored highly.
The Hush-Kit Book of Warplanes will feature the finest cuts from Hush-Kit along with exclusive new articles, explosive photography and gorgeous bespoke illustrations. Order The Hush-Kit Book of Warplanes here
14. Adolphe Pegoud
Insouciant as fuck, Pegoud catches the carefree elegance of French heroes with his rakish handlebar. He was the first fighter ace in the world, the first person to parachute from an aeroplane and the second (not the first as believed at the time) pilot to perform a loop. He was shot down and killed by a former pupil in 1915 at the tender age of 26.
13. Group Captain Mandrake
Failing to avert an apocalypse has never been done as stylishly as Peter Sellers' Mandrake did it in the 1964 Dr Strangelove. I'm not sure this moustache was real, I know that Mandrake himself was not – so low points here.
(For reasons that remain unclear, 'Mandrake' is also the nickname of the editor of a popular aircraft magazine.)
12. Wiley Post 'Post Modern'
Pionnering the pressure suit, discovering the jet stream and decorated with a rakish little moustache, Post had it going on.
11. Muhammad Mahmood Alam

Rumoured to have destroyed six IAF Hunters in one sortie — and with nine kills to his name, Alam was a hero to the Pakistan Air Force. The status of this F-86 pilot should not delude us into over-estimating his, at best, functional moustache.
12. Count Francesco Baracca 'Ferrario' 
Do not mess with Baracca. The Red Baron was not the only aristoric ace of World War I, Count Baracca had 34 confirmed kills and a no nonsense cold-blooded moustache.  He painted his family crest on the side of his aircraft, a black prancing horse, which inspired the Ferrari's iconic logo. He flew the Nieuport 17 and then, from March 1917, the SPAD VII.
11. Hugh Trenchard, 1st Viscount Trenchard 'Trenchard's Furry Friend'

You can almost imagine Trenchard's 1000-yard stare looking back at you as you catch him scrumping apples from your garden. History will judge a man who was an early advocate of strategic bombing and one of the architects of the British policy on imperial policing through air control as a man with a workmanlike facial caterpillar.
10. Air Chief Marshal Sir Hugh C T Dowding 'Dowdy-Dudey'

Dowdy Dowding was a spiritualist, a single parent, theosophist, anti-vivisectionist and a vegetarian — but his headmaster tash was not sexy. He was, however, very important in the Battle of Britain.
9. Gervais Raoul Lufbery — 'Plucky Gervais'

Another insouciant individual who looks like he could only smoked to give himself a break from kissing and reading philosophy, Lufbery was a French-born half-American who volunteered to fight before the US entered the war. Unlike many of the rather posh rich Americans who fought as early volunteers, he was from a humble background having worked in a chocolate factory before the war. I almost forgot to mention his moustache-  which is a micro-'Lampshade', and has a certain something.
8. Squadron Leader A H Rook
Leading a fighter squadron in Russia in 1941 demands a particularly brave moustache, so the RAF sent Rook. Good work.

7. Squadron Commander the Lord Flashheart
Lothario, brawler and the mad bastard hero of the RFC, Lord Flashheart had an excellent handlebar moustache but loses points for being imaginary.
6. Wing Commander Roger Morewood

Morewood — one of the last of the Few (he died in 2014) and rocker of a perfect RAF handlebar. The platonic ideal of the dashing fighter pilot, Morewood is a heavy hitter in pilot moustache world as well as having a name any male porn actor would die for.
5. Air Cmde Suren Tyagi
The Indian Air Force is an organisation that prioritises excellent moustaches over everything else (certainly over sensible procurement programmes). Thanks to this policy, Tyagi has created this luscious 'Imperial' style moustache, the perfect accoutrements for sitting in a MiG-21 or blasting a quail with a blunderbuss.
4. Flying Officer 'Osti' Ostaszewski-Ostoja

In the September 1939 campaign, Osti fought in the Polish "Dęblin Group", a desperate last-ditch defence force organised by instructors of the Fighter Pilot School in Ułęż. He later fought as a Spitfire pilot in the RAF. Excellent jawline and full moustache.

3. Flight Lieutenant (Flt Lt) Karan Kohli 'Dali Fulcrum'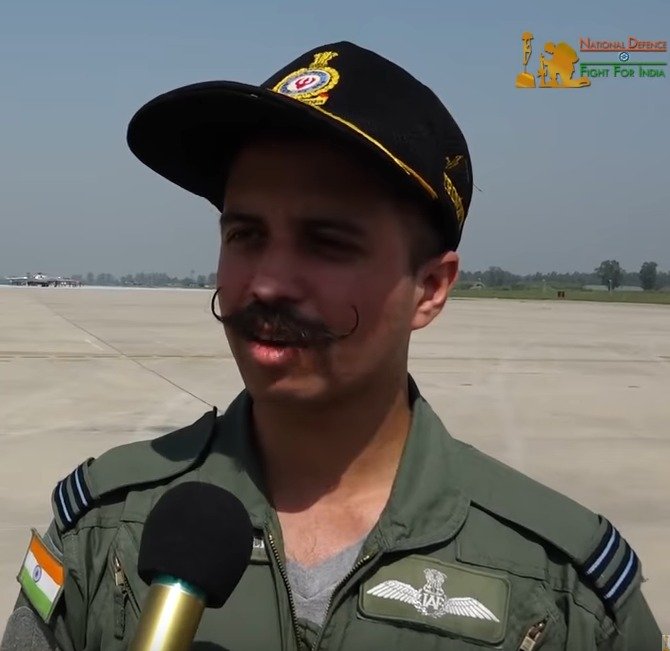 Moustaches are an integral part of tradition and folklore in several parts of India, imbuing the grower with respect, honour and above all, a look that speaks of masculinity. Kohli can perform the famous Cobra manourvre in his MiG-29 using his moustache alone, which is pretty impressive. This is also an excellent moustache – so points all round.
2. Robin Olds 'Olds pilot and bolds pilot'

You don't get more USAF than Robin Olds, having fought with aplomb in both the P-38 and P-51 in World War II — and later the F-4 in Vietnam. His extravagantly waxed non-regulation) handlebar moustache was an act of open defiance to authority and started a fashion that swept across the Air Force.  "It became the middle finger I couldn't raise in the PR photographs. The mustache became my silent last word in the verbal battles…with higher headquarters on rules, targets, and fighting the war."
When he was finally given a direct order to shave he did, which inadvertently inspired the Air Force tradition of "Mustache March", in which airmen worldwide show solidarity by a symbolic hairy protest month against Air Force facial hair regulations. The moustache itself was a masterpiece of style, authority and dash.
Orville Wright 'Wright said Fred'

The first aeroplane pilot in the world had an excellent moustache, Orville's magnificent face candy matching his contribution to world history. Years later it would inspire bland women on Tinder to don fake moustaches to demonstrate their lack of personalities.