Successes and failures of Russian air power in Syria
Russia has probably won the proxy war in Syria, partly due to its use of air power. Compared to the Western approach, Russia's use of military aircraft has been low-tech, relying largely on older airframes, such as the Su-25 and Su-24, using unguided bombs. Despite some successes, many aspects, especially its aircraft carrier capabilities, proved underwhelming. In the second part of Guy Plopsky's analysis of Russian air power for Hush-Kit we take a detailed look at Russia's bloody Syria campaign.
Everything You Always Wanted to Know About Russian Air Power* (*But Were Afraid to Ask) with Guy Plopsky: Part 2 – Russian Air Power in Syria
What has been the most active Russian combat aircraft in Syria?
In terms of number of combat sorties flown, the two most active Russian combat aircraft earlier on in the conflict appear to have been the Su-24M and Su-25SM. For nearly the first two years of Russian air operations, the Su-24M (including the M2 version) was the most numerous type of combat aircraft deployed to Syria, and it was heavily used. In March 2017, Interfax news agency, citing a video clip shared by Russia's then-Deputy Prime Minister, reported that Su-24Ms accounted for "over half" of all combat sorties flown since air operations began some 1.5 years prior. While this figure was never officially confirmed by the Russian Defense Ministry, Su-24Ms nevertheless likely flew more combat sorties than any other Russian aircraft during this time period. Even after the first two years and up until at least the end of 2018, the Su-24M remained deployed in Syria in greater numbers than most/any other type of Russian combat aircraft, and likely continues to account for a large percentage (if not the largest percentage) of total Russian combat sorties flown since the beginning of air operations.
Su-25SMs were also among the most numerous Russian combat aircraft initially deployed, and they, too, saw active use in Syria. According to the Voyenno-Promyshlennyy Kuryer (Military-Industrial Courier), Su-25s (predominantly the SM version) accounted for approximately 3,500 of the "over 9,000" combat sorties flown by Russian aircraft during the first five and a half month of air operations (that is, until the March 2016 drawdown). It should be noted that the "over 9,000" figure, which was announced by Russia's Defense Minister in March 2016, may not be accurate because a month earlier the then-head of Russia's Aerospace Forces (VKS) stated that "over 11,700" combat sorties had been flown. Either way, 3,500 combat sorties is a very sizable portion. The Su-25SM has often been praised by Russian analysts and media for requiring a relatively short pre-flight preparation time and turnaround time, which contributed to its achievement of high daily sortie rates when necessary. Consequently, though all Su-25SMs were reportedly withdrawn from Syria during the March 2016 drawdown and were subsequently deployed again in smaller numbers only in early 2017 (or possibly earlier), they likely still accounted for a sizeable portion of the total combat sorties flown by Russian aircraft during approximately the first two years of air operations. Indeed, while the percentage of total combat sorties flown by Su-25SMs during this time period is not known, in late August 2017 the deputy chief of the Russian General Staff stated that Su-24Ms and Su-25SMs had performed "50 percent of the main tasks for the aerial destruction of enemy objects" in Syria.
Another Russian combat aircraft that saw active use in Syria is the Su-34. Initially, only a small number of Su-34s were deployed to Syria; however, in late 2015 their number was increased. Su-34s are also known to have flown sorties against targets in Syria from Krymsk Air Base in southern Russia and Hamadan Air Base in northern Iran in November 2015 and August 2016, respectively. While some of the Su-34s in Syria returned to Russia as part of the March 2016 drawdown, satellite imagery shows that by late 2017 the number of Su-34s deployed in the country had greatly increased, exceeding that of any other Russian combat aircraft in Syria at the time. Satellite imagery also suggests that the Su-34 was one of the most numerous types of Russian combat aircraft deployed in Syria throughout much of 2018 (and quite possibly still is to this day). Given the numbers of Su-34s deployed in Syria at times and their active use, the Su-34 likely also accounts for a large percentage of the total combat sorties flown by Russian aircraft since the beginning of air operations.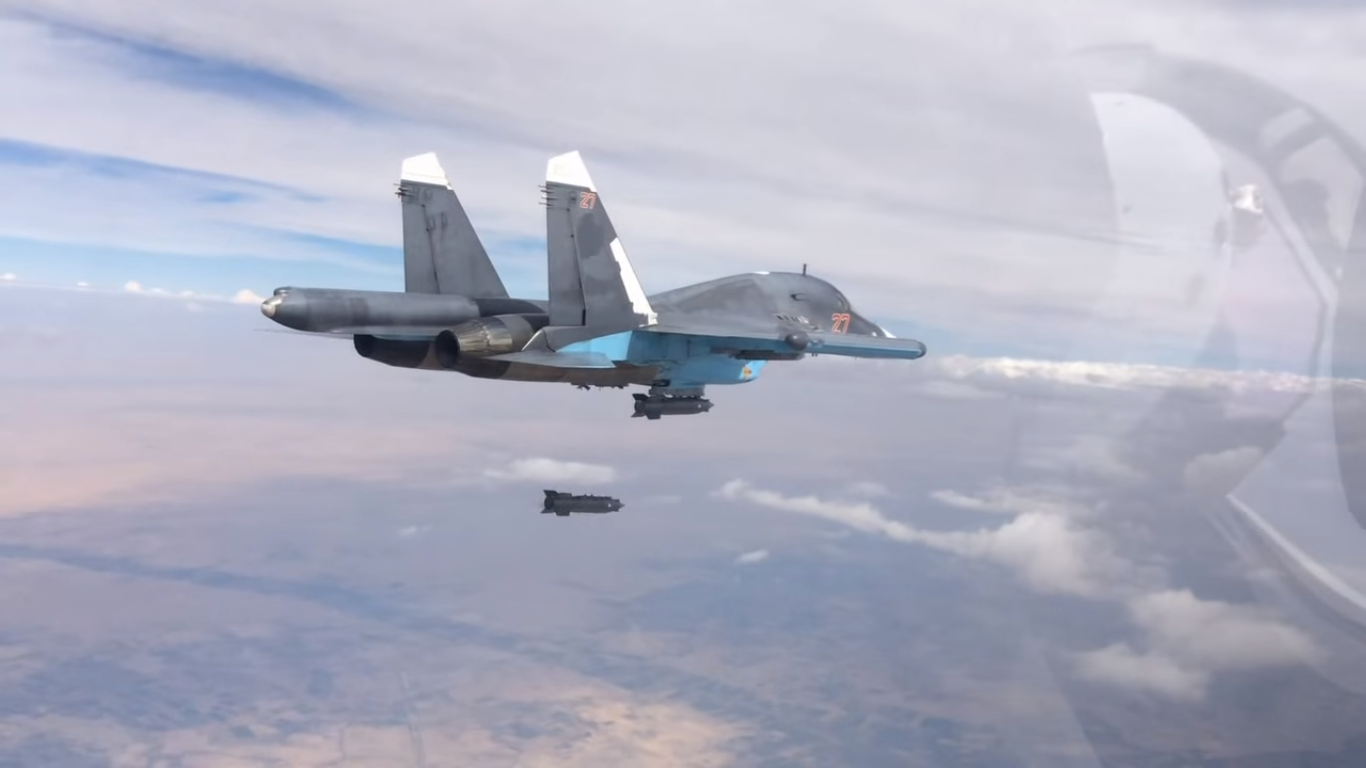 How many aircraft are deployed in Syria and where are they based?
Initially, Russia deployed some 50 aircraft to Khmeimim Air Base in Syria's Latakia Governorate. These included 12 Su-24M/M2s, 10 Su-25SMs, 4 Su-30SMs, 4 Su-34s, 2 Su-25UBs, 1 An-30, 1 Il-20, 12 Mi-24Ps and 4 Mi-8AMTShs. Since then, the size and composition of Russia's air group in Syria has varied greatly. It has included fixed-wing combat aircraft such as the Su-27SM3, Su-35S and MiG-29SMT (9-19R), rotary-wing combat aircraft such as the Mi-35M, Mi-28N and Ka-52, and various other manned and unmanned assets (for example, the A-50U airborne early warning and control (AEW&C) aircraft and Forpost unmanned aerial system (UAS). Several types of prototype/pre-production aircraft (systems) were also deployed to Syria for testing under real combat conditions (notably, the Su-57, Mi-28NM, and the Inokhodets UAS).
In the second half of 2018, Russia erected 18 aircraft shelters at Khmeimim. Nine helicopter shelters were also constructed at the base at a later date. Satellite images taken after late 2018 therefore reveal only some of the aircraft present at Khmeimim at the time they were taken. As a result, the approximate number of Russian aircraft currently deployed in Syria is not known. It's quite possible that, as I mentioned earlier, the Su-24M and Su-34 have remained the two most numerous types of Russian combat aircraft deployed in the country throughout much (or all) of the time since late 2018. Apart from erecting aircraft shelters, Russia has conducted other infrastructure expansion work at Khmeimim. Notably, the western runway was upgraded to allow use of the air base by additional aircraft types, including the Tu-22M3. In late May 2021 the Russian Defense Ministry published footage showing three Tu-22M3 bombers arriving at the base for the first time to carry out training activities (and possibly also strike sorties). While Tu-22M3s previously flew strike sorties against targets in Syria, they did so only from Russia and from Hamadan Air Base in Iran. The Tu-22M3 deployment was followed by the deployment of an Il-38 anti-submarine warfare (ASW) aircraft and two MiG-31K strike aircraft to Khmeimim in late June. The latter is notable because it marks the first deployment of the MiG-31K to Syria (and abroad in general).
Apart from Khmeimim, which is Russia's main operating base in Syria, the Russians have used al-Shayrat and T-4 air bases (both located in Homs Governorate) as "forward aerodromes" for rotary-wing aviation. Russian helicopters were reportedly first spotted in Shayrat in late 2015. At the end of March 2016, there were 12 rotary-wing aircraft visible at the base on satellite imagery published by IHS Jane's. Among them were modern Mi-28N and Ka-52 attack helicopters. Satellite images suggest that Russian rotary-wing aviation continued to use the base until at least early 2017. As for T-4, which is located just over 60 km east of Shayrat, five Russian attack helicopters (likely Mi-24Ps) were reportedly forward deployed to the base in late 2015. Satellite imagery published by Stratfor shows that in mid-May 2016 there were four Mi-24Ps (or Mi-35Ms) and one Mi-8 present at the base. Notably, despite denial by the Russian Defense Ministry, these four Mi-24Ps (or Mi-35Ms) were destroyed on the ground when the base was shelled by IS forces that same month – their wreckage is visible in satellite imagery taken several days later (also published by Stratfor). More recently, Russian helicopters were also forward deployed to Qamishlo Airport near the Syrian town of Qamishli, which sits on the border with Turkey. Footage released by the Russian Defense Ministry in mid-November 2019 shows the arrival of two Mi-35Ms and one Mi-8AMTSh at the airport. Satellite imagery from March, May and June 2020 shows four helicopters at Qamishlo (2 Mi-35Ms and 2 Mi-8AMTShs).
KEEP THIS SITE GOING BY CLICKING ON THE DONATE BUTTON AT THE TOP OF THIS PAGE. YOUR SUPPORT KEEPS THIS GOING. Thank you.
The Hush-Kit Book of Warplanes will feature the finest cuts from this site along with exclusive new articles, explosive photography and gorgeous bespoke illustrations. Pre-order The Hush-Kit Book of Warplanes

here

. Thank you.
The only manned Russian fixed-wing combat aircraft that is known to have been deployed at an air base inside Syria other than Khmeimim is the Su-25SM. Satellite imagery from early May 2019 shows a pair of Su-25SMs forward deployed at T-4 Air Base along with two helicopters (a Mi-35M and a Mi-8), while satellite imagery from later that month published by CSIS shows two more Su-25SMs (i.e. a total of four) parked on the ramp nearby the two aforementioned helicopters. As for unmanned fixed-wing aircraft, T-4 is also known to have hosted a Russian unmanned combat aerial vehicle (UCAV); recently declassified footage from Syria, which was first aired on the state-owned "Russia 1" TV channel earlier this year, briefly shows an armed UCAV (part of the Inokhodets UAS) taking-off from the base at an unspecified date. Given that strikes using the Inokhodets UAS were conducted in Syria for the first time in 2019, this brief footage was filmed either that year or more recently.
What are the roles of Russian aircraft in Syria?
Russian aircraft have carried out a wide range of tasks/missions in Syria. These have included: airlift (equipment, supplies and personnel); intelligence, surveillance, reconnaissance (ISR) and target acquisition (including, for example, the use of UAVs for bomb damage assessment (BDA) and artillery spotting); patrol and escort (using fighters and attack helicopters); combat search and rescue (CSAR); close air support (CAS); strategic attack (for example, against IS oil infrastructure and transport targets); and air interdiction. With regard to the latter, some interdiction missions have involved the use of fixed/rotary-wing combat aircraft to "free hunt" for IS and various opposition forces in assigned areas. Similarly, some strategic attack missions involved the use of combat aircraft to free hunt for IS tanker trucks.
What has been the greatest achievement of Russian air power in Syria?
Despite its many limitations, Russian air power was instrumental in enabling pro-Assad forces to regain control over large parts of Syria. Forces loyal to Assad often proved poorly trained, disciplined and/or motivated, necessitating the embedding of Russian military advisors and the use of some Russian ground forces (many Russian private military contractors were also deployed); nevertheless, Russian air power proved sufficiently effective to prevent the need for a large contingent of Russian ground forces in Syria. While the effectiveness of Russian air operations very early on was limited, already in November 2015 Russia was able to achieve a marked improvement in the effectiveness of air operations by applying experience acquired under real combat conditions and by making increased use of more modern capabilities.
What have been the greatest failures?
The brief participation of Russian carrier aviation in air operations over Syria has widely been regarded as a failure. While the then-commander of the Russian force grouping in Syria boasted that aircraft from the Admiral Kuznetsov carrier group flew a total of approximately 1,170 sorties over a period of about two month (November 2016 – January 2017), only 420 of those were combat sorties – an average of just 7-8 combat sorties per day – and only 117 of the combat sorties were flown at night (an average of just 2 per day). Moreover, in January 2017, U.S. officials told Fox News that during this two month period only 154 sorties were flown from the Kuznetsov's deck (the others being flown from land), though it is unclear if they were referring only to sorties flown by the carrier group's fighter aircraft or also to those flown by its helicopters. In any case, it indeed appears that the carrier group's fighters flew most of their sorties out of Khmeimim Air Base rather than from the Kuznetsov heavy aircraft-carrying cruiser. Satellite imagery from mid-November 2016 published by IHS Jane's shows eight (i.e. almost all) of the carrier group's Su-33s parked at the air base. One of the carrier group's MiG-29KR fighters was also present at Khmeimim at the time the imagery was taken.
The decision to transfer most of the carrier group's fighter aircraft to Khmeimim was likely prompted at least in part by apparent issues with the Kuznetsov's arrestor gear. Indeed, early the following month one of Kuznetsov's Su-33 fighters fell off the deck after an arrestor cable snapped during landing. This was the second non-combat loss of an aircraft suffered by the carrier group during its deployment. The first non-combat loss took place in mid-November and involved a MiG-29KR, though the circumstances of that crash are less clear as there are contradicting reports and theories as to what happened. The non-combat loss of two carrier-based fighters over a period of just two month is a major failure considering that the Kuznetsov's entire fighter complement for this deployment numbered less than 15 aircraft.
YOUR SUPPORT KEEPS THIS GOING. Thank you.
As for the contribution of carrier aviation to Russian air operations over Syria, in early January 2017 the then-commander of the Russian force grouping in Syria claimed that "1252 terrorist targets were struck" by the carrier group's aircraft. However, the effectiveness and capabilities of Russia's carrier aviation have been heavily criticized, even in Russia. Well-respected Russian military analyst Anton Lavrov, for example, called the participation of the Kuznetsov carrier group's aircraft a "complete failure," correctly pointing out that "deck aviation radically lacked capabilities when compared to ground-based aviation." According to his assessment, Russian carrier aviation "failed to produce a noticeable effect on the battlefield."
One of Russia's other notable failures is the continued inability to field a robust unmanned strike capability. While the Syrian conflict has seen Russian forces employ UASs on an unprecedented scale, it was not, as noted earlier, until 2019 that UCAV strikes were first carried out in the country as part of tests of the Inokhodets UAS. Consequently, only a small number of unmanned strike sorties have been flown so far, with Russia having yet to employ armed UASs in Syria more widely. Indeed, with the exception of several types of loitering munition systems (which have also seen limited use), all other Russian UASs being employed in Syria are unarmed. The lack of an organic strike capability means that a target acquired by a UAS must then be prosecuted either by artillery, a manned aircraft or a different shooter, increasing the time necessary to complete the kill chain. This can complicate the effective conduct of dynamic targeting against time-sensitive targets.
Guy Plopsky is the author of a number of articles on air power and Russian military affairs. He holds an MA in International Affairs and Strategic Studies from Tamkang University Taiwan.