10 Most Important Aircraft in Irish History
The fascinating aviation history of Ireland is seldom covered, so in an attempt to rectify this we asked Michael Carley to pick the 10 most important aircraft in Irish history. Though the Seafire and Lysander were operated by the Irish armed forces, they don't make the cut for historical importance. The following 10 aircraft paint a fascinating picture of Ireland's unique aeronautical history.
(The lovely Seafire image above is by Edward Ward for Hush-Kit and is available on a variety of high-quality items here.)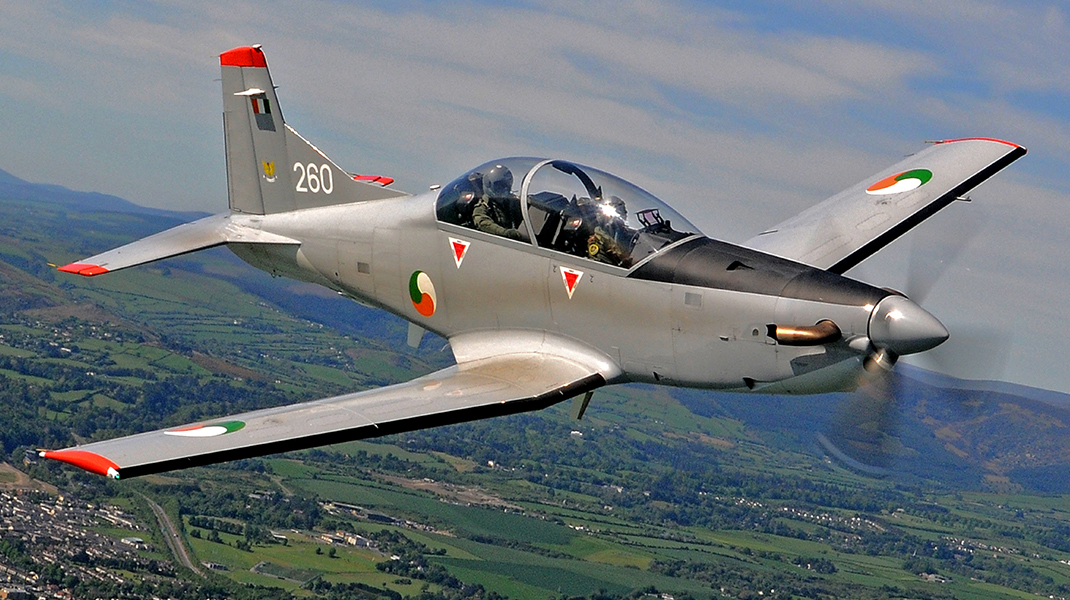 10. Martinsyde Type A
Everything in Ireland happens twice: once when we claim independence, once when we get it. The first Dáil Éireann (national assembly), containing a large contingent of men with a price on their heads, met three years before Ireland was granted formal independence. In between, the Irish government negotiated with the United Kingdom, leading to the notorious Treaty, which was signed just over a century ago. When the Irish delegation went to London to make the deal, they had no idea how things might turn out and felt the need of a getaway vehicle, in particular for Michael Collins, a man worth ten grand, dead or alive.
Two former RAF men, William McSweeney and Charles Russell, now serving in the IRA, were sent to buy an aircraft and have it ready for a quick exit should talks fail. Laundering the money through the Irish Self-Determination League of Great Britain, the Dáil paid three thousand for a Martinsyde Type A, and the Irish Air Corps had its first aircraft, christened 'The Big Fella', after Collins. The Martinsyde cabin was modified to carry five people, and the aircraft was stashed at Brooklands, where a Captain Clarke was slipped twenty five quid to make sure it was ready at short notice. If talks had collapsed and Collins had to take a runner, Russell have flown him from Brooklands to Leopardstown racecourse in Dublin, routing via Bristol and Wexford.
In the event, the talks led to the Treaty, which was endorsed by Dáil Éireann (another, ongoing, story) and the escape plan was dropped. The Martinsyde was taken over by the Air Corps at independence, though it was of little use in the Civil War and was mainly used for VIP transport. It was scrapped in 1937 after a decade out of service, being used to train ground crew.
9. Bristol F.2 Fighter
The Bristol F.2 was the first aircraft the Irish Army National Air Service acquired without having to approach a dodgy aeroplane dealer. By the end of 1922, the air service had ten aircraft, six F.2s and four Martinsyde Type As. The F.2 was a reasonably capable aircraft for the period and started the practice of Ireland not being as far behind the rest of the world as some people assume. Ten years later, the air corps was flying Gloster Gladiators and by the end of the Second World War, it was replacing Hurricanes with Seafires. It had also introduced the coolest roundel on the planet.
Shortly after the Civil War, the National Air Service became the Army Air Corps with its headquarters at Baldonnel, south of Dublin, near where I grew up. Baldonnel Aerodrome was later named after Sir Roger Casement. Britain had knighted him for his work exposing abuses in the rubber-tapping industry, and hanged him for trying to bring German guns into Ireland for the 1916 Rising. That would probably make the headquarters of the Irish Air Corps the only military airfield in the world named after a gay icon.
8. de Havilland DH.84 Iolar
Frank Zappa allegedly reckoned you're not a real country unless you have a beer and an airline. Ireland has a beer older than the state, which causes all sorts of trademark issues, but it didn't get an airline until April 1936 when Aer Lingus (in English "air fleet", or in Russian, aeroflot) was founded. Its first aircraft was a de Havilland DH.84, called Iolar ("Eagle"). The first scheduled service was from Baldonnel (now Casement Aerodrome) to Bristol (Whitchurch). A second aircraft, a DH.86 Éire was used to extend the Bristol service to Croydon, and the DH.84 began the first Dublin–Liverpool service. According to Wikipedia, the Dublin–London route is the second busiest international route in the world, after Hong Kong–Taipei. That's a lot of miserable people being flown by Ryanair.
Iolar is no more, but Aer Lingus did restore another DH.84 as a replica.
7. Customised Curtiss-Robin OX-5
Alcock and Brown made the first flight between North America and Ireland, but they crashed in a field in Galway. Douglas Wrong Way Corrigan flew from Brooklyn to Dublin and landed at the Irish Air Corps' Baldonnel Aerodrome, in 1938. Corrigan was an aircraft mechanic who had worked on Lindbergh's Spirit of Saint Louis and wanted to repeat the trip, selecting Ireland as his destination. After getting a transport pilot's licence, bought a used Curtiss-Robin OX-5 and took it home to California. He upgraded the aircraft with extra fuel capacity and a new engine made of two old Wright Whirlwinds. This was enough to get him permission for cross-country flights, but permission for a transatlantic attempt was denied. By 1937, he had improved the aircraft so much that he was denied permission to fly it all. Flying on an experimental aircraft permit, he travelled from California to New York, as a test of the aircraft's range. That flight took 27 hours, the last few of which were marred by fumes in the cockpit from a fuel leak.
At Floyd Bennett field, Corrigan filed a flight plan for return to California, took off, and headed east instead of west. After ten hours, he made a hole in the floor to drain the fuel leaking into the cockpit. After twenty six hours, he realised he had been going the wrong way. Two hours after that he landed in Baldonnel. He was barred from flying for fourteen days. On the day his suspension expired, he arrived by steamer in New York by steamer, with his aeroplane.
6. Boeing 314
Before there was Shannon Airport, there was Foynes Flying Boat Station. On the Shannon estuary, it was the point of entry for flying boats from Newfoundland, Montreal, Poole, and Lisbon. Pan Am's Yankee Clipper was the first Boeing 314 assigned to the Atlantic routes and made its proving flight to Foynes in April 1939. For a few years afterwards, Foynes was one of the biggest civilian airports in Europe, mainly because it was one of the few in a neutral country. The 314 was the civilized way to cross the Atlantic, if you had the cash. Dinner was served on linen, wine came in crystal, and when you woke up in the morning, your freshly polished shoes were next to your bed. It also had a celestial observation turret. Every home should have one.
Foynes was closed in 1946 and its place in transatlantic aviation was taken by Shannon Airport on the other side of the estuary. Shannon's first transatlantic flight took place in 1945 and in 1947 it became the world's first duty-free airport. Foynes claims the credit for inventing the Irish coffee, as a way of warming up flying boat passengers who needed reviving.
In 1989 I spent a long time at Shannon because a bunch of Cubans had defected in Gander.
5. Short Sunderland
The Short Sunderland, 'Flying Porcupine' to the enemy, was the first of their own aircraft which Short Brothers built at their Belfast plant. They had set up a plant there, to supplement production in Rochester, and started off by producing Bristol Bombays and Handley-Page Herefords. The Sunderland is probably the first production aircraft you could meaningfully call 'Irish'. It flew in the Battle of Atlantic, the Korean War, and the Berlin Airlift. It was heavily armed, purposeful, and looked just the way you'd hope a military flying boat would. It did anti-submarine warfare, search-and-rescue, and maritime reconnaissance.
It's a miracle Short Brothers managed to build it. They were so badly run, the state stepped in. In 1943, "left to their own devices the management of Short Brothers had not succeeded in putting their house satisfactorily in order", so the British government nationalised them. Then it denationalised them.
4. Fouga Magister
The Fouga was the second Magister flown by the Air Corps: one of their Miles Magisters is hanging up in the National Museum in Dublin. The National Museum also has Ireland's other exotically-tailed fast (ish) jet, a de Havilland Vampire. The Vampire and the Magister were probably the last time Ireland flew fixed-wing aircraft that you could call "advanced", and even then it's a stretch. Today, the Air Corps flies modern aircraft of their type (CN-235, PC-12, EC135, AW139, PC-9) but realistically Ireland doesn't need fast jets.
The Magister gets the nod here because it was a bit more modern, and a bit more shinier than the Vampire. It was also the last jet operated by the Air Corps, other than the Gulfstream IV and the Learjet used for VIP and medical transport. The Magister entered Irish service in 1975 and was flown until 1999 as a trainer and as the Light Strike Squadron. Four Magisters formed the corps' display team, the Silver Swallows. In 1997, they appeared at Fairford and won the Lockheed Martin Cannestra Trophy for the Best Display by an Overseas Performer, which isn't a bad way to close an era.
If you were on your way down the Blessington Road back into Tallaght, you would occasionally see the Silver Swallows practicing. Side on. They liked to get close to the ground.
(link goes to volume 2 but you can find volume 1 on the same site)
3. Short 'Vomit Comet'
The Short Skyvan and its descendants, the 330 and the 360 are proof that you really can make a brick fly if you put an adequate wing on it. Presumably, somebody had stolen the compasses from the design office and they had to use a ruler for everything. They ended up designing an aircraft that was a very convenient shape for putting square boxes into. It was not a convenient shape for air to flow over. It was noisy and sickness-inducing. The US Air Force bought a few, calling them the C-23 Sherpa, after people who go to great heights without pressurisation.
They were also popular with skydiving clubs, presumably because being a passenger in one made throwing yourself out the door an attractive proposition.
2. Embraer EMB 110 Bandeirante
A what? The EMB110 is an eighteen passenger twin turboprop designed in the 1960s. In 1985, an Irish company called Danren Enterprises started flying them from Waterford to Gatwick. Not long afterwards, the owners, Christopher Ryan, Liam Lonergan, and Tony Ryan, renamed the company.
Look, do I have to spell this out?
1. Short SC.1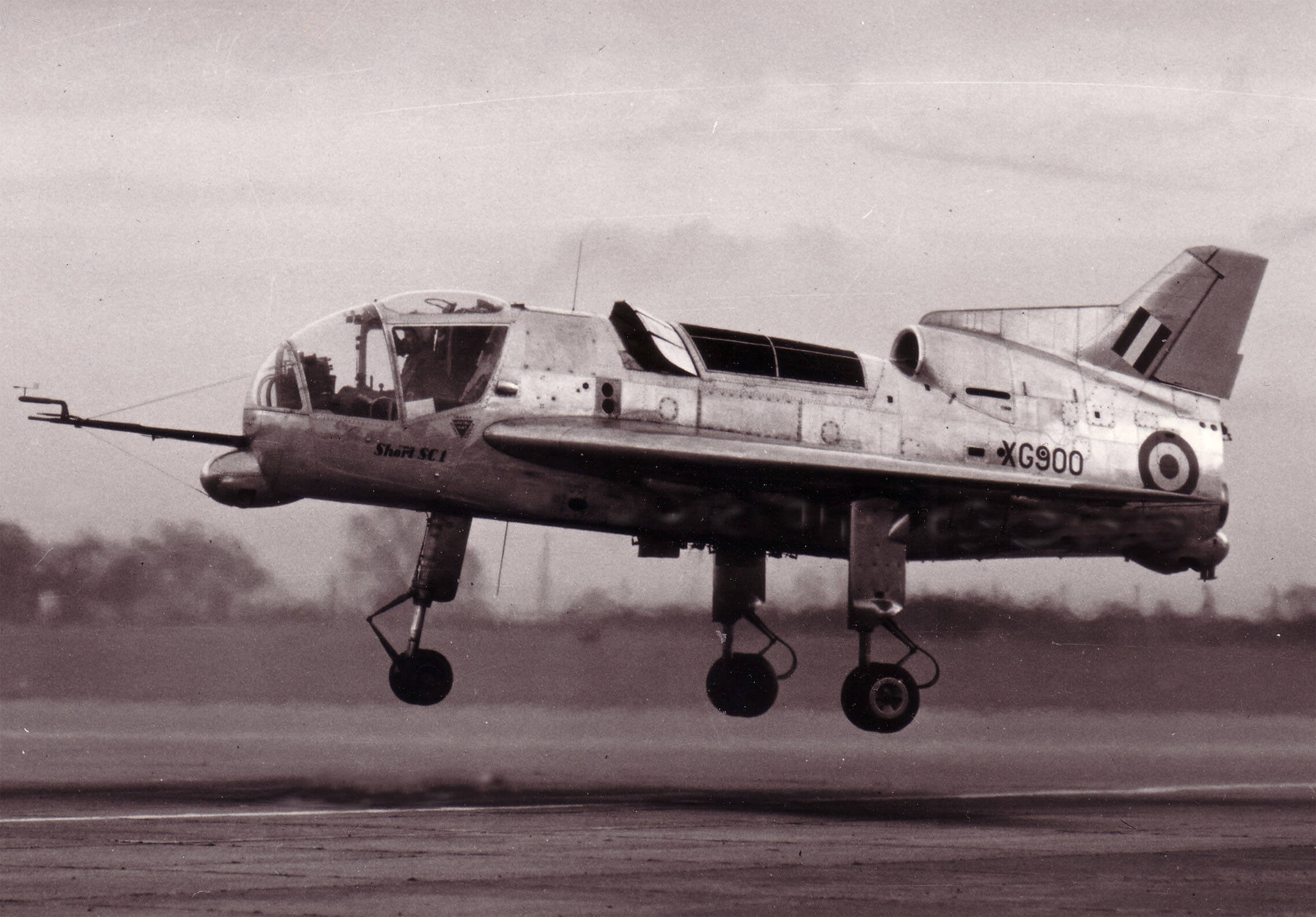 Short Brothers had their moments, it is fair to say. The SC-1 was a stubby little delta-wing affair with five engines: one pointing backwards and four pointing down. It made its first flight in April 1957, using the backward-pointing engine. In May 1958, a second SC-1 made a tethered hover, using the downward-pointing engines. In April 1960, an SC-1 made its first transition from vertical to forward flight, and back again. VTOL was a thing. The design was a dead end, because it made no sense to carry four engines that you had to keep switched off most of the time, but the two aircraft showed that vertical take off was feasible and that controlled transition from vertical to forward flight was possible. A few years later, the Harrier was entering service.
Michael Carley is a Senior Lecturer at the University of Bath, teaching aircraft stability and control, and researching aircraft noise. NPL (failed).